Battery Storage
*******************************************************************
There is currently a severe supply shortage of materials in the pv / renewable sector which is causing long delays. Along with the huge increase in demand following the rise in the cost of fuel, we have been overwhelmed with queries and with the extra amount work which results from the resulting logistical problems. Unfortunately, this means that we are not able to look at any new queries for at least the next 3 months. If you are willing to wait, please supply your details - we will respond to acknowledge your query and look at it when we get the time to do so.
*******************************************************************
NZ Eco Electric offers design and installation of new battery systems and upgrades and repairs of existing systems. It is important to assess your energy usage and requirements to ensure that you get the system which is right for you.
Battery storage systems allow you to store your solar energy for when you need it. If you work away from home during the day, most of the energy produced by your solar pv system will not be used. That energy could be stored in a battery, ready to use when you return home in the evening. A battery storage system can be retro-fitted to any solar PV system. Some electricity providers, such as Octopus, are starting to offer flexible rate tariffs to customers who feed power back into the National Grid, which pay a different rate depending on when the electricity is exported. So if you export electricity in the evening when there is high demand, you will receive a higher rate than if you export it during the afternoon. Batteries give the opportunity for the energy generated by your panels to be stored and released back to the grid at the most profitable time.
NZ Eco Electric will discuss your requirements and your electricity usage to provide a bespoke system. We are not tied to any one manufacturer so will recommend which is most suitable for your needs, for example, BYD, LG Chem or Tesla among others.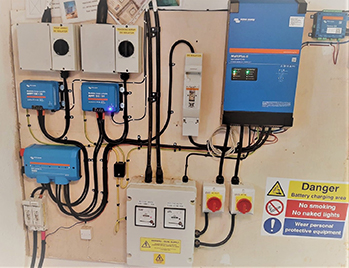 Request a Consultation
If you have any questions, please fill out the contact us form and we'll get in touch to discuss your requirements.
We do not employ salespeople; your project will be handled with a single point of contact.